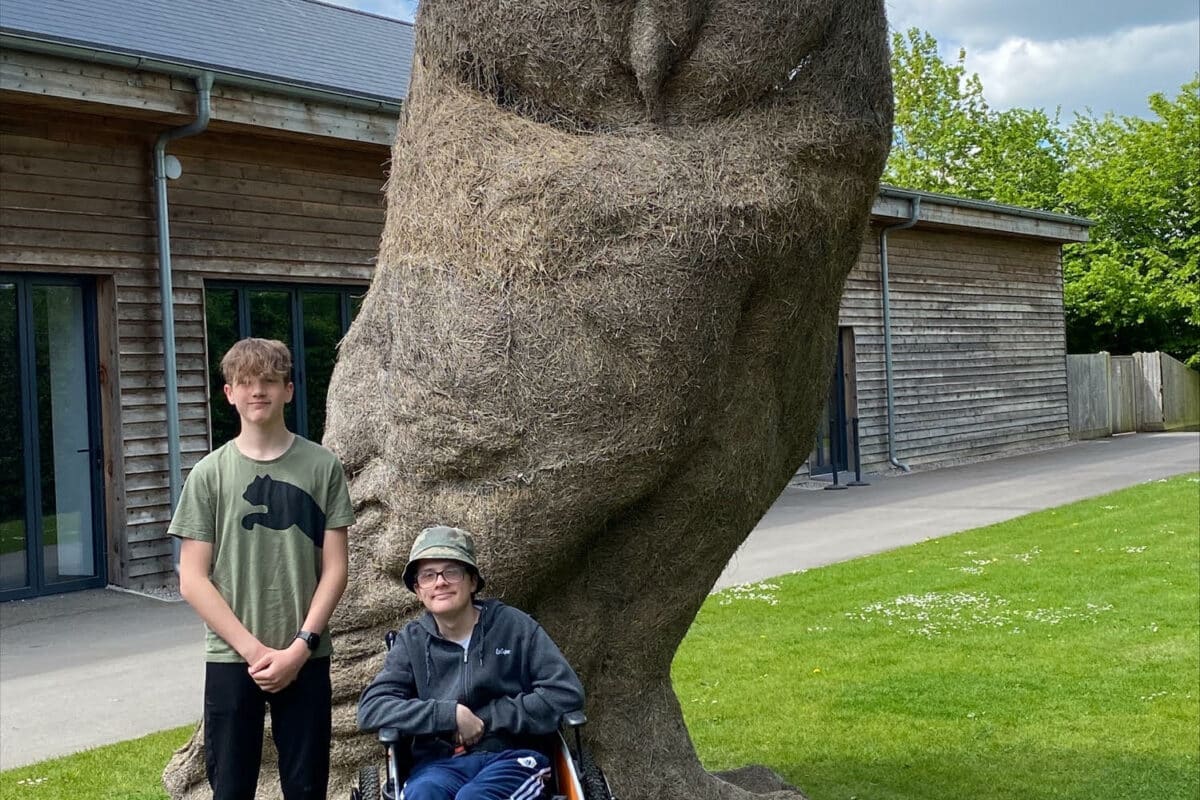 Liam's Story
Liam was 4 years old when he was first diagnosed with a form of brain tumour and underwent treatment. However, 12 years later a scan showed there had been disease progression. He started weekly chemotherapy, but a further scan showed that the tumour had not been responding to chemotherapy as hoped. This meant he would undergo complex surgery. 
A few months later an MRI scan showed further tumour growth and Liam recommenced chemotherapy and underwent numerous surgeries. He then had further chemotherapy treatment. 
Liam suffers from several co-morbidities because of his diagnosis including learning difficulties and some difficulties with fine and gross motor skills. His mobility has been significantly impacted and the family home needed to be adapted to accommodate his needs downstairs. 
Liam uses a wheelchair/mobility scooter to get out and about. Unfortunately, Liam's current provision is challenging for the family if accessing certain areas due to not being all terrain and unsuitable on certain surfaces. 
YOUR donations allowed us to purchase an All-Terrain explorer wheelchair that was lightweight and folded easily. This was going to enable them to go exploring as a family again. 
These are some of the quotes from his Mum sent at different times
"Wow thank you so much from the bottom of my heart for your generous help. Liam has had the most horrendous year, with 6surgerieson his brain in that time, getting a serious infection and having chemotherapy. We, as a family, used to love going exploring the countryside and coastal areas, and an all-terrain wheelchair will mean that we can do this as a family again. This will make a huge difference to Liam and his mental health. Especially as he is still facing another year of chemotherapy. We never expected anything like this and so soon. Thank you so very much for your help."
"We have 3 other children and due to not having the correct wheelchair, it means that me and Liam don't get to explore like we used to. Liam's Dad takes the other children, so they don't miss out, but it feels like we are separating the family. Just to be able to go out and make those memories together will be the absolute world.
Watching Liam go out and smile doesn't happen enough, so this will allow us to do this so much more."
"We really cannot thank you enough".
"A million time thank you for making such a profound difference to Liam's life."
"Just wanted to let you know that the wheelchair was delivered today. We cannot thank you enough. Liam absolutely loves it and cannot wait to go exploring in it. It's absolutely brilliant and exactly what we needed."