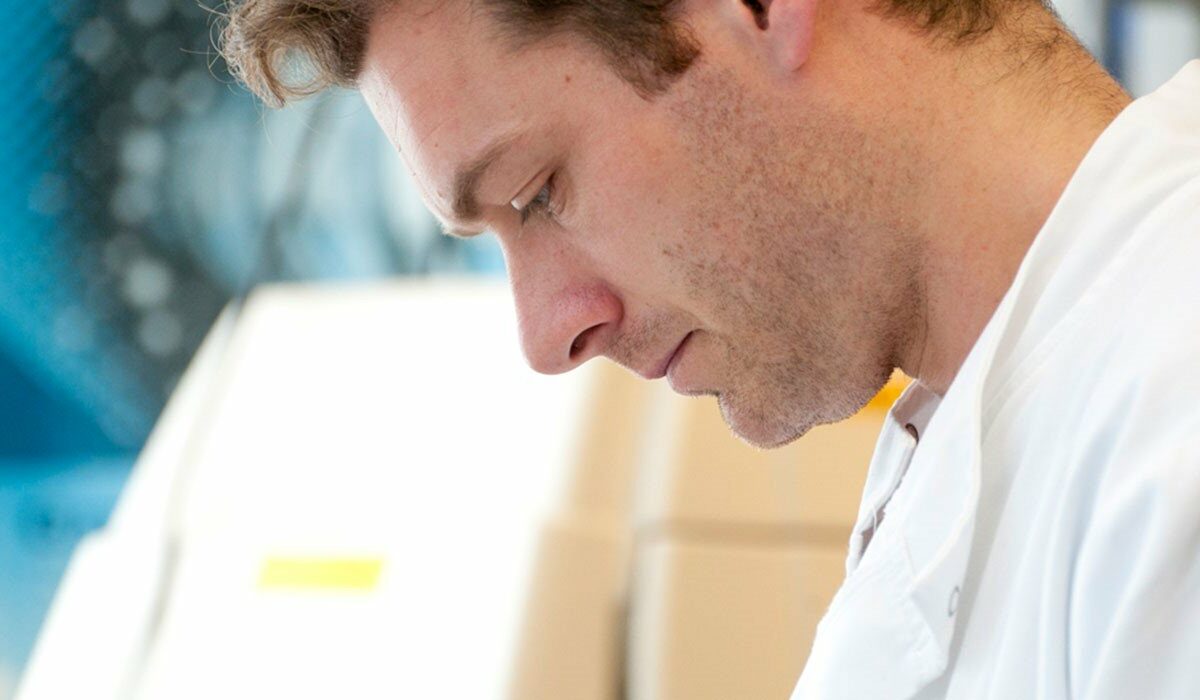 Dr Chris Milton's research update
Dr Chris Milton has continued his research into the effectiveness of specific drugs. These drugs could be a potential therapeutic for patients with DSRCT and rhabdomyosarcoma. Chris has written up his initial findings and submitted this as a paper to be considered for publication in an internationally acclaimed journal.
Talk us through your typical day
After getting in to work I check my emails and plan my day around my experiments. I might plan experiments several days in advance, so this involves booking pieces of essential equipment so I'm prepared.
Most of my day will be spent in one of two  labs, either  handling  cells and setting up experiments with them or processing cells to assess protein or  DNA/RNA  expression.  I  will also spend some time in the office analysing data from previous experiments, as well as reading papers. All of which has to fit in around meetings and interesting seminars I might want to go to!
How does your work contribute to our mission?
The ICR's mission is to make the discoveries that defeat cancer, and my work has demonstrated that a targeted drug being tested in phase II trials for the treatment of adult cancers has efficacy in our preclinical models of a paediatric cancer called rhabdomyosarcoma (RMS). Furthermore, we believe that this drug may be of benefit to patients with a related disease called Desmoplastic Small Round Cell Tumour (DSRCT) and so are testing its efficacy in these models as well.
My work provides evidence that this drug can potentially be used to treat the most aggressive forms of these terrible diseases and as a result we are testing it alongside standard chemotherapy so that it may be incorporated into a new RMS clinical trial.
What big projects are you working on?
As well as providing evidence for a targeted drug to be incorporated into the forthcoming clinical trials for RMS, I have been assessing whether the drug could be used to treat patients with DSRCT. Understanding the molecular mechanisms involved when combined with chemotherapy is important to derive an even greater therapeutic effect for patients and to prevent resistance developing.
I am particularly grateful for the significant funding from The Tom Bowdidge Foundation. Their dedicated and generous support plays a critical role in enabling us to discover new approaches to treating DSRCT. Without funding from such trusts and foundations, it would be very difficult for our team to continue to drive forward our research that may ultimately help young people with DSRCT and other sarcomas.
I am also involved in a project which uses chemogenomics and bioinformatics approaches to prioritise proteins in cancer cells that could be targeted with drugs, based on data from both cell lines and patients. I am experimentally testing the prioritised targets that have been identified to provide proof-of -principle in RMS cells.
Your work in a tweet
I identify new ways to target cancer with drugs and other treatments with the aim of improving outcomes for children with soft tissue sarcomas.
What are you most proud of?
I'm proud to have identified a small molecule drug that has the potential to make a big difference to patients' lives if incorporated into the next clinical trial.
What do you most need from your colleagues at the ICR?
I get a whole range of things from people here at the ICR but their expertise and practical experience is paramount as well as encouragement and new ideas!
What skills and expertise can you offer colleagues?
I have a wide breadth of practical lab experience stemming from jobs in academia, a biotech company and industry but my expertise relates to drug discovery and development. I have also been on many committees here at the ICR, and chaired the Post Doc committee, which has helped me to develop my listening, negotiation and team management skills.
Who do you collaborate with at the ICR and elsewhere?
I collaborate with too many people to name across the ICR: both scientists and corporate staff, which is critical to making progress.
What makes you want to work for the ICR?
Primarily because there are so many talented scientists here who are trying to translate their interesting findings into patient benefit. There is also a great sense of camaraderie here –  people are very happy to share and listen to thoughts and ideas.
What's your favourite part of your job?
I guess there are two things: the first is getting exciting results from my experiments and the second is meeting new people in different divisions and roles and helping them to achieve their aims.
What do you do to wind down?
Mainly sport if I can find time! Football and rock climbing are my favourites.
What are colleagues least likely to know about you?
That I was responsible for setting up the Biological Society (BioSoc) at the University of York in 2001, which still survives to this day!