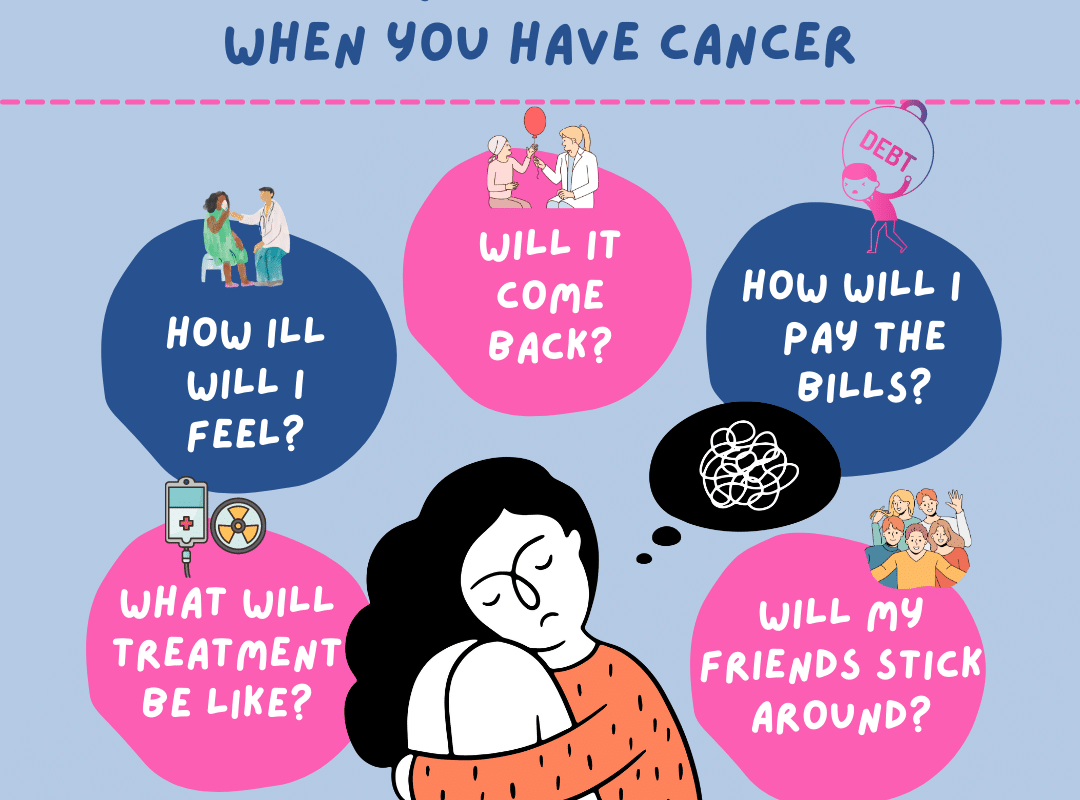 Anxiety and Cancer
22/05/23
|
Simply Pondering
Cancer is so much more than a physical illness.
Mental health difficulties can have a huge impact on how young people tolerate and cope with treatment.
Even before you are diagnosed anxiety will start to creep in. You know there is something not right and the worry about what it might be makes you feel anxious. This anxiety can stop people from getting checked out because they fear it might be something bad.
As you hear the words no one wants to hear 'You have cancer' your world comes crashing down. Whatever happens, life will never be the same again. Even if you go into remission the fear of whether your cancer will return is going to remain.
As a family, we know only too well how anxiety affects each member. As a Mum, my anxiety went through the roof. I was consumed with fear and worry.
Would Tom die?
How long would I have with him?
Would the chemo make him feel really poorly?
I couldn't relax and certainly couldn't sleep. I feared the worst.
For Tom, his fears were how ill he would feel following treatment. He never believed he would die so that didn't worry him. He kept a lot of his thoughts private because he didn't want to worry his loved ones, especially me. If he had a new pain, he knew that would set everyone off because it indicated the cancer was spreading.
He became anxious about talking to friends because he thought they would have moved on and they would no longer have anything in common anymore. For his friends, they were anxious about what to talk about with him. It can be a very isolating place to be. If you are receiving treatment that keeps you in social isolation the need to be in contact with the outside world is extremely great.
A cancer diagnosis affects every member of the family, whether you are a parent, grandparent, or sibling. The experience is terrifying for all. The cost of a diagnosis can be as much as an extra £750 a month, with travel, household bills and loss of income. Parents often need to juggle work, home life, school, and the hospital at a time when they just want to focus on their child and their treatment. As the cost-of-living crisis takes hold many families are really struggling with some having to make decisions such as putting food on the table or paying to get to the hospital.
Tom always believed that a positive mental attitude would get him through. He allowed himself to cry at times and ask why it was happening to him. As time went on, and on the days that he felt okay, he saw his friends and found that they still had things in common, especially gaming. It took his mind off his cancer world and for small spells of time he could forget. Meeting up with others on the ward also helped and they could compare notes of treatments and side effects. He felt part of a new community that truly understood. The specialist nursing staff also knew how to talk to him with many chats happening at
2 am.
As a charity, we are in a good place to know where help is needed. We help those with financial worries by helping with household bills and in some cases, we help to keep a roof over their heads.
We help with isolation by providing IT equipment which allows the young patient to stay in contact with friends, peers, family, school, or university. We provide age-appropriate rooms so that the young people can get together and discuss their worries in private and away from the adults.
We are also on the end of the phone to provide a listening ear or shoulder to cry on when no one else understands. No one knows more about how it feels than a parent who has already been where you are. So please do not hesitate to get in touch.