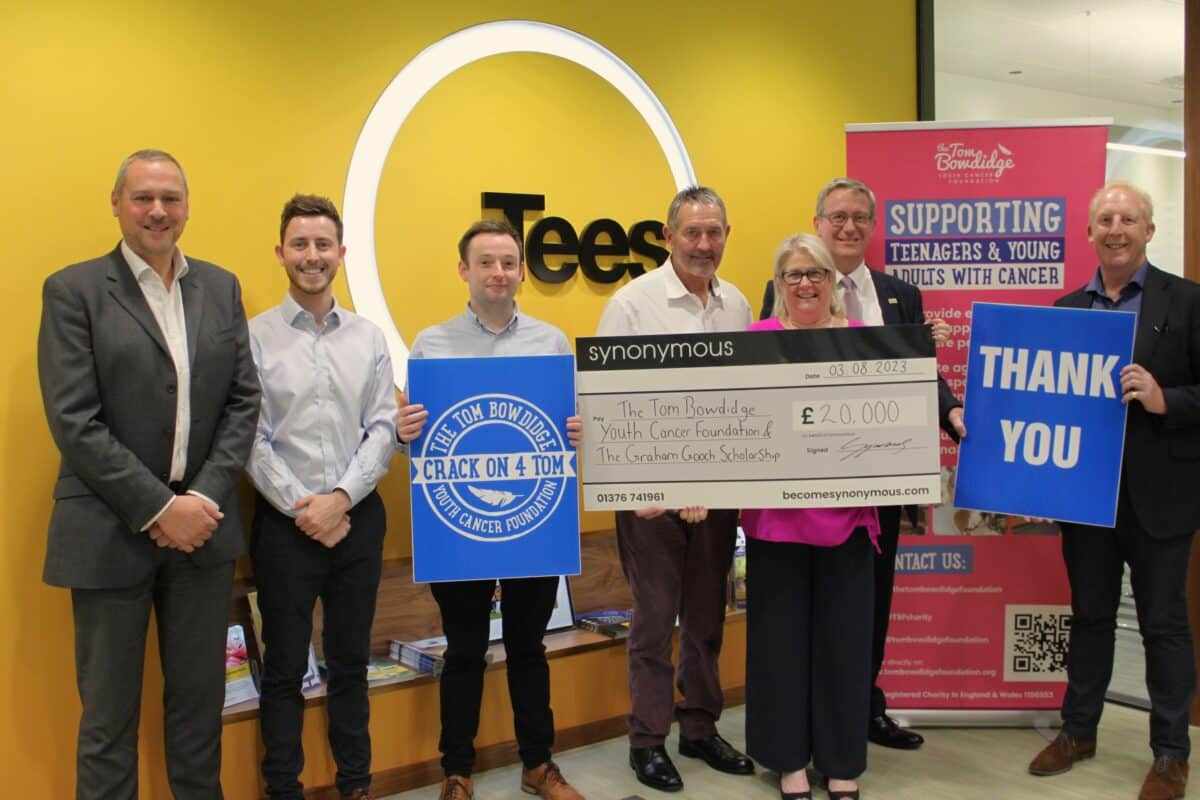 Synonymous, the emerging sports marketing agency that also specialises in hosting corporate events, successfully hosted its first event in cricket, The Pre-Ashes Lunch in the Lord's Long Room. The event took place in the prestigious Long Room at Lord's on Thursday 22nd June 2023, it was organised in support of Essex-based charities, The Tom Bowdidge Youth Cancer Foundation and the Graham Gooch Scholarship and was sponsored by Tees.
The historic Long Room at Lord's was filled with more than 200 guests from businesses across Essex and London who gathered to enjoy exquisite cuisine and enjoy an afternoon of entertainment.  Ex-England cricketing legends Graham Gooch, Geoff Miller and Chris Cowdrey shared insider stories from the heat of test match cricket with ex-Australian cricketer Jeff Thomson as the intense rivalry of Ashes cricket came back to English soil for a highly entertaining summer series.
The incredible generosity of guests on the day helped to raise £20,000 for the two chosen charities. The significant amount will allow the Tom Bowdidge Youth Cancer Foundation to support Essex families that are facing the huge costs that cancer brings. It will also support key cricket projects within Essex and London funded by the Graham Gooch Scholarship.
In a heartwarming response from the CEO of The Tom Bowdidge Youth Cancer Foundation, and Mother of Tom, Nikki Bowdidge stated, "We are so very grateful for the team at Synonymous and everyone that took part in the 'Pre-Ashes Lunch' at Lord's for the tremendous fundraising effort. These funds come at a crucial time for the foundation as families battling cancer are pressed more than ever by the financial strain of a teenager going through cancer treatment, due to the increased impact on rising energy and fuel costs across the region. We look forward to more fundraising with Synonymous at their next event with Harry Redknapp on Thursday 9th of November at Braxted Park Witham, Harry is a patron of our charity, so we look forward to welcoming him to Essex."
Graham Gooch also showed his praise, stating, "It was a fantastic event, a real privilege to be a part of and I enjoyed playing my part on the day getting stories out of old teammates. The amount raised for the scholarship will go a long way to help young cricketers in East London and East Anglia."
Darrell Fox, Founder of Synonymous, shared his connection to the charity, saying, "I had the pleasure of meeting Tom as a teenager, he was an incredibly courageous young man who showed great determination to raise awareness and funds to support other teenagers faced with the mental and physical challenges of cancer diagnoses at a young age. We are determined to further support the charity at our next event with Harry Redknapp on Thursday 9th November, at Braxted Park Witham where businesses and individuals can show their support by getting involved. A big thanks to our sponsor Tees for making the Lord's event possible, helping us to raise such a substantial sum."
The roaring success of the 'Pre-Ashes Lunch' in the Lord's Long Room was made possible through the generous sponsorship of Tees who are pro-active supporters of local charitable causes in the Essex community. Their sponsorship has further envigored the growth plan for Synonymous corporate events as the team plans to increase client entertainment opportunities and support worthy causes.
Ashton Hunt, Managing Director at Tees, proudly endorses the Pre-Ashes Lunch and the charities, emphasising our enthusiasm to participate in this event. "It enables us to continue our commitment to supporting local charities across Essex. At Tees, we provide a comprehensive range of personal and business legal services, coupled with independent wealth management advice. Our foundation is built upon enduring relationships with the communities we serve, firmly situating us at the heart of these regions."